This Spring has been exciting for me. For one, I've been exploring many new techniques which continue to result in works unlike anything I've ever created. For a couple years I have been exploring corroding steel in many different ways and along the way have encountered some expected, and some unexpected challenges.
From a technical point of view, this Spring has been exceptional. I've made some breakthroughs and you can see some of these pieces in the May and June sections of my gallery .
Lighting steel and rust for photography can be challenging, so I frequently move my pieces indoors and out to try and find suitable conditions for taking photos. So far my backyard has proven to be the most favorable studio. The other day while moving my steel and canvas around, I found a little green squatter. A tiny frog so small he could sit in tablespoon and have room to spare. I thought about picking him up for a photo in the palm of my hand but I did want to mess with his Chi. Pretty frikkin' cute.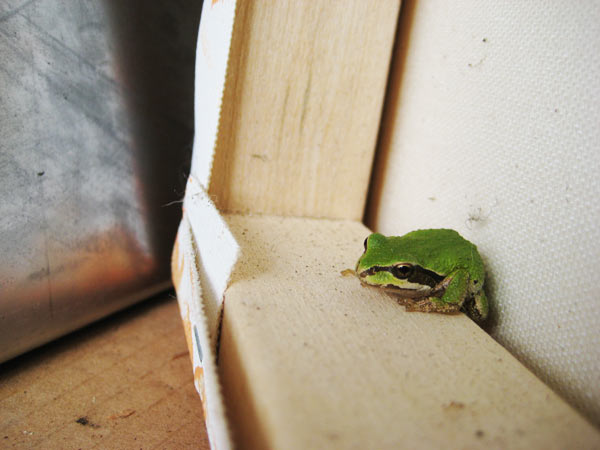 Tiny green frog hangin' out amongst my steel and canvas.
Secondly, I've got a solo show taking place for the annual Nelson Art Walk at the Hazeldean Gallery. I was honored that gallery owners Naomi and Prue chose me out of many possible artists. I look forward to putting on a show with a series of works featuring rural and rustic themes along my continuing fascination with horses.
The Hazeldean Gallery is located at 105-402 Baker Street. They will be on display and for sale from July the 1st. Swing by, say gudday and check out my works.
Lastly, I've been selected by curator Michael Grahame to participate in a group show at the new (as yet unnamed) basement gallery underneath Nelson's world famous Craft Connection. This will be in August sometime and I'll post confirmed dates as they become available.
Cheers.